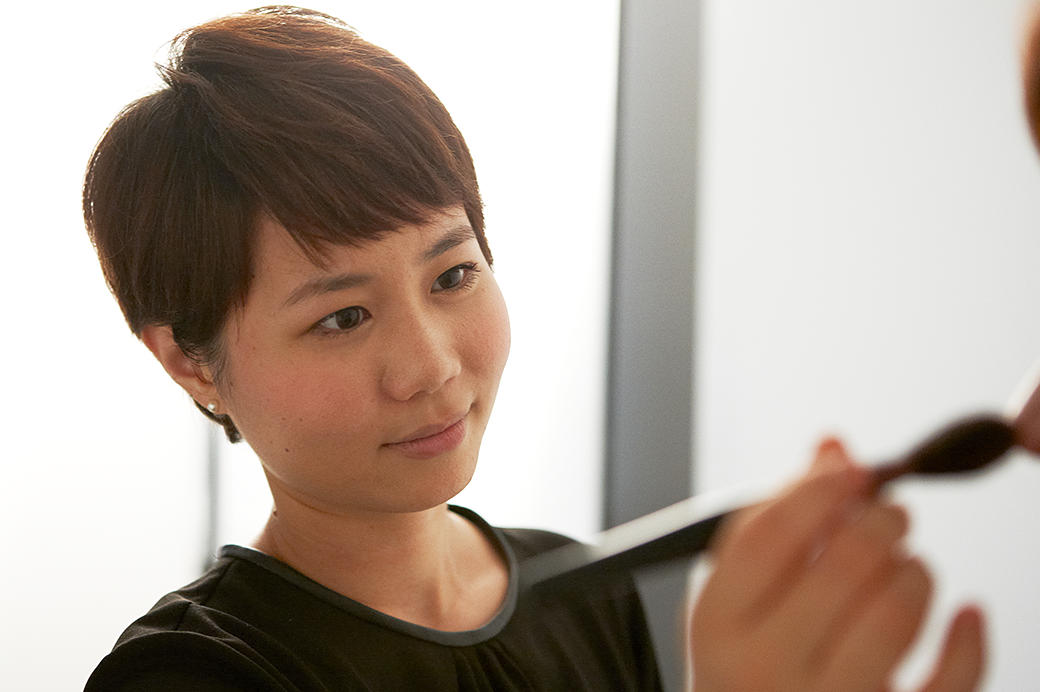 Sachiko Hayashi
SHISEIDO HAIR&MAKEUP ARTIST
Pursues visual expressions beyond fashion and beauty. "I create works that will astonish you"
Hayashi Sachiko has been working for hair makeups at the backstages of fashion shows in Tokyo, Shanghai, and New York. She also joined project LGBTQ and continued study to learn more in-depth. She appeared in BeauTV VoCE; a tv asahi broadcasted program in Japan by beauty magazine VoCE as in charge of hair makeup and also. She also creates beauty information for job-hunting college students and appears in college seminars, and has been a hair makeup director for the look book of the fashion brands and jewelry brands. She appeared on the article of COMMERCIAL PHOTO magazine, as her unique makeup at Nou-yodare (Brain drool) exhibition by Hakuhoudo was highly evaluated. She pursues the beauty which will go beyond fashion and everyday beauty.
In the company Shiseido, she had been the supporting artist of the brands such as MAQUillAGE and IPSA, and now she works for the product development, advertising and publicity photo shooting of the brand Clé de Peau BEAUTÉ.

She intended to be a hair makeup artist when she saw the works of Shiseido Top Hair Makeup Artists and wanted to become like them to transmit works, which will give surprise to people. Her target is to become not only to provide surprise but to present a hair makeup which will provide confidence and happiness to people now. At the working site, she thinks to create a relaxing ambiance for communication will lead to good works and feels satisfaction when the pieces come into one after all the tests, like ad-lib of jazz. In her private life, she loves to collect goods of Doraemon.

Joined Shiseido in 2014 after seven years of salon works. Shiseido Hair & Makeup Artist. Graduated from Takayama Hairdressing School.
Advertising

2018 AQL / AG / EI/ uno
Magazines

VOCE / SO-EN / seventeen / Nicolas / Bungei Shunju / HANATSUBAKI / COMMERCIAL PHOTO etc.
Show&Event

2017 Tokyo Rainbow Pride

2017 Vint-age

2018 BI JAPON Tour in Paris

2018 Miriya Kato Live / ROE Live

[NY COLLECTION]

yuna yang / Son Jung Wan / Claudia Li / Li-Ning / Barbara T fank etc.

[Shanghai COLLECTION]

Ximon lee / DDW / CHALAYAN / HAIZHENG WANG / WHM etc.

[TOKYO COLLECTION]

MIKIO SAKABE / YUKI TORII / SOMARTA / HIROKOKOSHINO / beautiful people / the dallas / tiit / YUIMA NAKAZATO / MUZE / PARADOX / SRETSIS etc.
Exhibition

2018 NOU YODARE Exhibition (Hakuhodo)
Others

2018 AI WANNA BE Photo Book / amakane look shooting / lissita look shooting / GARDE COLLECTIVE 2019ss look shooting
Award

2015 NHDK Hair Contest National Competition MATOME Hair category second place

2016 MDA Photo Creation Award, Kenta Chono Prize Brand Prix