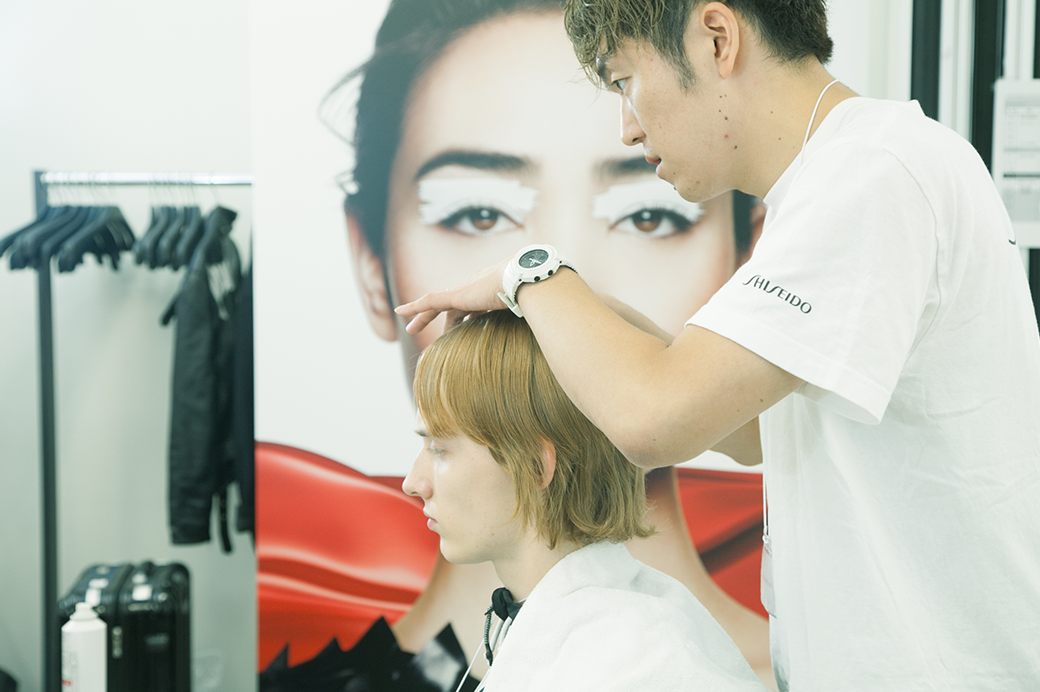 Kouichi Monma
SHISEIDO HAIR&MAKEUP ARTIST
Shares the techniques and fun of beauty through a range of activities. "I want to boost the social standing of beauty"
Monma Kouichi is actively working from a tutor in seminars to backstage works in fashion shows in order to spread the joy of beauty and its techniques. Also, he specializes in haircuts, colors, and men's haircuts as his origin tells.

He is a tutor of the hair makeup artist school of Shiseido, SABFA (Shiseido Academy of Beauty and Fashion) and a creative director of Shiseido Beauty Salon. He welcomes customers as a hairstylist at Shiseido Passage Beaute four times per month.

He started this work wanting to spread the power of beauty and the fun of beauty. He maintains his technique level in a high level. His motto is to thoroughly continue to think of what is wanted and never giving up. He wants to upgrade the social value of beauty works. He feels satisfaction when the learner in the seminars understands and feeling joy and happiness. He is competitive and optimist.

Joined Shiseido Beauty Salon in 2004. Became Hair makeup artist of Shiseido in 2018. Graduated from Shiseido Beauty Academy.
Award

2011 Japan Hair Design Association contest national convention cut section winner

2012 Shiseido Technical Contest National Competition, Summary Hair Category Winner

2014 Japan Hair Design Association Contest National Competition Roundup Hair Runner-up

2015 Shiseido Technical Contest National Competition Bridal Category

Second Place
Related Information

Career:

2008 Men's cut trend seminar for hairdressers in Malaysia

2009, 2010 Cuts for hairdressers in Taipei, Taichung and Kaohsiung

2011 In charge of cut, color and permanent trend seminars for hairdressers in Shanghai

2012 Cut, Color Trend, Hair Arrangement Seminar in Taipei / Taichung

Participated in the 2013 NY Collection

2014 Shiseido Beauty Salon Technical Guidance Patrol Education Cut in Beijing, Shenyang, Chief Color Trend Seminar

2015 Cut in Seoul, Busan

2016 In charge of cuts, color trends, and hair arranging seminars in Ulsan, Seoul

2017 In charge of a 1000-person hair show in Ningbo / Suzhou

2018 Hangzhou / Jinan SHISEIDO MAKEUP Promotion Event Participation in Shanghai Collection

Active in Asia